Mobiles Solutions, built for your business.
Empower your business with our reliable and efficient mobile solutions.
Complete coverage and capabilities,
for every business requirement.
With our extensive range of products and solutions, we can cater to your business requirements and empower you to enhance the functionality of your existing infrastructure. We provide suitable tariffs tailored to your usage, along with comprehensive packages to safeguard your devices and protect your valuable information from external threats.
Each tariff is built and tailored to each individuals usage profile and business. A variety of options are available from managed tariffs and shared data to singular individual tariffs.

Ensuring your devices are secure is more important than ever, to protect your business against cyber attacks. Our Mobile Device Management solutions you can take full control of your connections and hardware.

We offer handsets from all the major manufacturers. Most of our devices have a 24-month warranty, with next working day device replacement in case of any faults.


Does your current provider do this?
We take immense pride in the unparalleled support and service we provide to every single customers. It's our unwavering commitment to go above and beyond, ensuring that every client receives nothing short of excellence.
We ask you to consider, does your current supplier truly match the level of dedication and personalised attention that we bring to the table? We believe that your satisfaction is not just a priority but a promise, and we strive to exceed your expectations in every interaction. Your success is our success, and we are here to ensure that every step of your journey with us is marked by exceptional service and unwavering support.











Mobile solutions built bespoke for your business needs.
We've established partnerships with industry leaders including EE, Vodafone, O2, Wandera, Samsung Knox, MaaS360 and SOTI.
These partnerships allow us to provide our clients with the best possible tariffs and mobile device management solutions available on the market. EE, Vodafone, and O2 are all major network providers in the UK, and our partnerships with them allow us to offer our clients reliable, high-speed connectivity for their mobile devices. Wandera offers cutting-edge mobile security solutions that help keep our clients' data safe, whilst Samsung Knox provides robust security features for Samsung devices. MaaS360 is a leading mobile device management platform that allows us to manage and secure our clients' devices remotely.
By partnering with these companies, we can offer our clients a comprehensive range of solutions to meet their specific needs, while also ensuring that their mobile devices are secure and fully optimised for business use.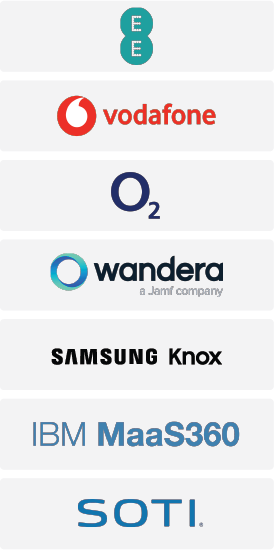 Your business, our solutions, all in one place.