Innovative platform,
intuitive design.
CallSwitch Business is our comprehensive, full feature set platform providing advanced call function capabilities to all.

CallSwitch Business allows for CRM integration and includes the CallSwitch Desktop and Mobile App for iOS and Android. Our CallSwitch product offers a strong set of business telephony features that are essential to any Unified Communications solution.

From simple "find me/follow me" functionality that will simultaneously ring, to fixed mobile convergence applications, to making and receiving business calls on personal mobile devices.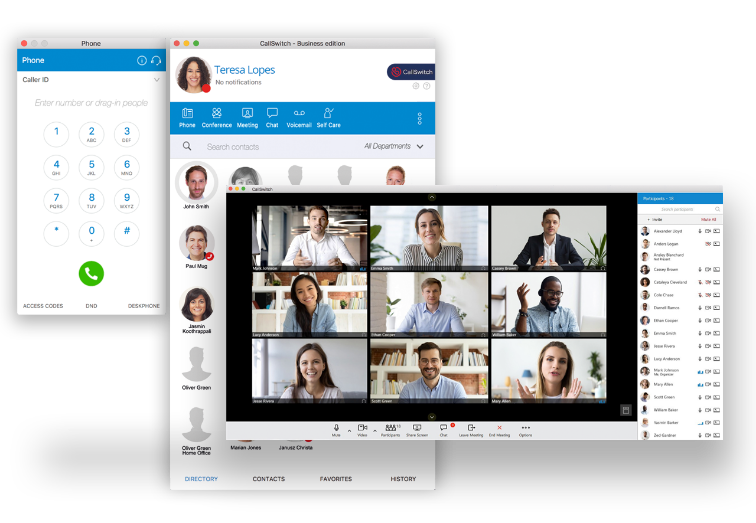 Our CallSwitch Business product comes with an extensive range of advanced call handling and management features, all operated through an easy-to-use interface. The full list of features is exhaustive, but the most regularly used are:

Switch desks in shared office environment

Set up a private virtual conference room with external dial ins

Integration with different CRM
solutions
Send messages to your contacts
with our App

Level up your customer service and agent productivity

Handle calls professionally and efficiently

Never lose a customer when
you've got them on hold

The main access point to your relationship with CallSwitch

Initiate calls straight from your
computer

No need for a physical handset, your computer becomes your phone.

Use our App to make telephone calls from your devices

You won't be affected by the upcoming changes to the way phone systems work
Our powerful desktop and mobile applications are specifically designed to take your business communications to a whole new level. Their main purpose is to enhance and simplify customers' day-to-day communications experience.
CallSwitch Communicator Desktop
The CallSwitch Communicator App is designed to be used in conjunction with the core CallSwitch services. It includes soft phone, instant messaging, presence and management of your customers' existing CallSwitch accounts.
CallSwitch Communicator Mobile
The CallSwitch Communicator Mobile App has been specifically designed to enhance your day-to-day communications experience. It allows users to utilise their smartphones as a CallSwitch extension, including video calling, call recorder, detailed call history and call forwarding & waiting.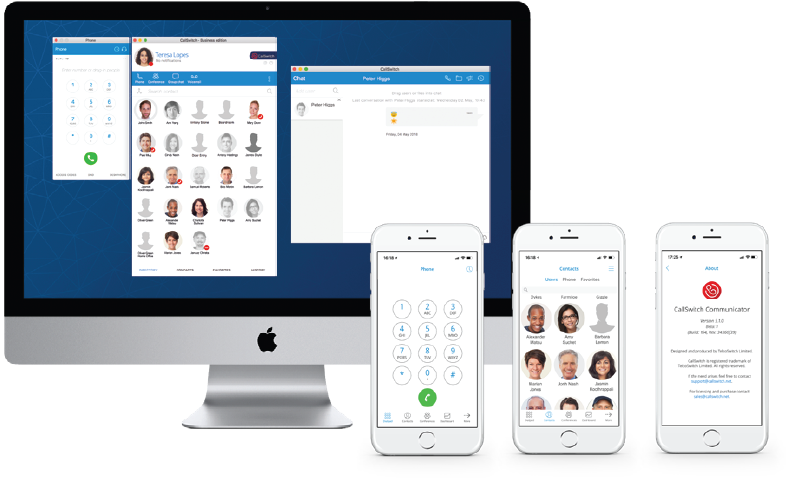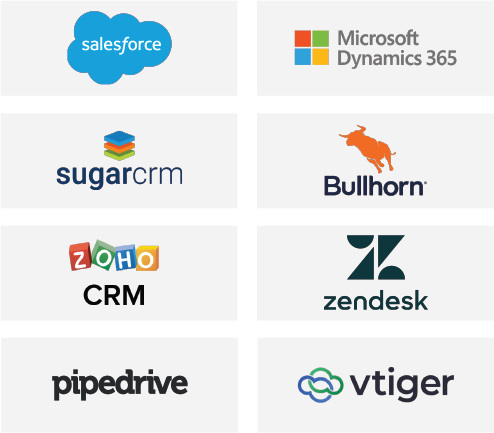 Our seamless integration with different CRM solutions and browsers brings together the functionality and features of your CallSwitch phone solution and inserts it into the applications that your customers use on a daily basis.
The average work day is full of managing customer calls and records using various sales and support programs. By integrating CallSwitch with your CRM system or browser, you can not only improve the speed and accuracy of working, but can also dynamically pull up customer records and information at a time when you need them most.
Our platform is plug-and-play ready for integration via RESTAPI with Salesforce, Microsoft Dynamics, SugarCRM, Bullhorn, Zendesk, ZOHO, VTiger Pipedrive and Suite CRM. The CRM functionality provides screen popping of the chosen CRM and integrates it with certain desktop features such as desktop contacts searching.
CallSwitch Compliant is an add-on to CallSwitch Business. It allows your customers to see how employees are communicating with customers.
When selling telephony solutions for financial institutions or companies who record calls and take payments over the phone, you can provide the perfect compliance ready solution.
CallSwitch Compliant gives your business a 360 degree view of your customer touch points and allows you to track how employees handle specific customer situations, interactions and day-to-day activities, all from one screen. Fully MIFID II and PCI Compliant, CallSwitch Compliant is designed to be operational in minutes. An intuitive web interface makes it easy to navigate through calls and playback, with features available from a single screen.
With just a simple tutorial, you can be up and running without losing valuable staff time to training.
An all-in-one Customer Experience
Voice Recording.
Screen Capture.
Employee Evaluation Employee Training.
Employee and Supervisor Notes Compliance Support.
Call Tagging.
Call Detail Information Payment platform integration API.
CallSwitch Compliant Benefits
360 degree view of the customer experience.
Improve customer service and loyalty.
Create measurable employee performance incentives.
Resolve customer issues quickly and effectively.
Gauge employee performance through interaction management.
Create an employee training program.
Adherence to PCI Compliance Low cost, pay-as-you-grow!
Your business, our solutions, all in one place.